Game Gallery® » Game Bundles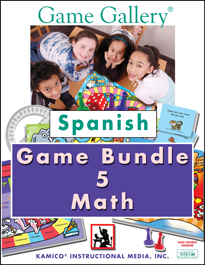 Game Gallery® - Grado 5 Paquete de matemáticas en español
SPECIAL SAVINGS!
15% discount!
One each of the Spanish fifth-grade matemáticas TEKS-based board games. Click below for game titles and corresponding skills.
Go Back
Details
Grado 5 Paquete de matemáticas en español includes the following TEKS-based board games:
Divide, y conquista el Everest - resolver problemas de division
¿Sabes medir? - resolver problemas que implican el calculo de conversiones dentro de un sistema de medicion, el ingles o el metrico.
Bingo experimental - aplicar las matematicas a los problemas que surgen en la vida diaria, la sociedad y el trabajo
La gran sum-aventura - sumar y restar numeros racionales positivos con facilidad
Ironman de matemáticas - generar y utilizar representaciones para organizar, anotar y comunicar ideas matematicas
Laberinto de medición - resolver problemas que implican el calculo de conversiones dentro de un sistema de medicion, el ingles o el metrico. 5(4)(H) Razonamiento algebraico. Representar y resolver problemas relacionados con el perimetro y/o el area, asi como con el volumen
El dinero no crece en los árboles - aplicar las matematicas a los problemas que surgen en la vida diaria
Multiplicación motorizada - multiplicar con facilidad un numero de tres digitos por un numero de dos digitos
Patrones con Riesgo - generar un patron numerico
Dilema de patrones - generar un patron numerico
De compras por los alrededores - estimar para determinar soluciones a problemas matematicos y a problemas del mundo real que involucran suma, resta, multiplicacion y division
La copa de la superestimación - estimar para determinar soluciones a problemas matematicos y a problemas del mundo real que involucran suma, resta, multiplicacion y division
Volúmenes de hielo - representar y resolver problemas relacionados con el volumen