Game Gallery® » Board Games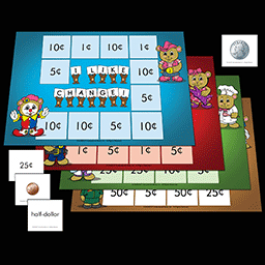 Game Gallery® - KM - I Like Change!
ISBN: 978-1-62426-306-4
Kindergarten Math Board Game and Flash Cards
(TEKS K(4) Number and operations. Identify U.S. coins by name.)
Go Back
Details

KAMICO® Instructional Media, Inc.
Presents
Game Gallery®
Kindergarten Math
I Like Change!
Rock with the bears as your child plays I Like Change! Players learn to not only identify coins but also read and write their values. The 4 game boards and 90 cards provide lots of reinforcement!
► TEKS-based game to develop, reinforce, and extend student knowledge
► Ready to play with all parts included
► Promotes student collaboration and interaction
► Decreases student behavior problems
► Supports differentiated instruction
► Validated by scientifically based research
► 1 - 4 players