Game Gallery® » Board Games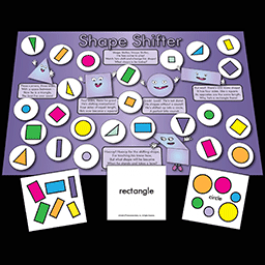 Game Gallery® - KM - Shape Shifter!
ISBN: 978-1-62426-307-1
Kindergarten Math Board Game and Flash Cards
(TEKS K(6)(A) Geometry and measurement. Identify two-dimensional shapes.)
Go Back
Details

KAMICO® Instructional Media, Inc.
Presents
Game Gallery®
Kindergarten Math
Shape Shifter!
Shape Shifter! is ready to play! Watch him shift and change his shape! What shape will he be today? Your child will enjoy learning about circles, triangles, rectangles, and squares as (s)he moves about the shape-shifting game board, matching the 72 cards to shapes on the board.
► TEKS-based game to develop, reinforce, and extend student knowledge
► Ready to play with all parts included
► Promotes student collaboration and interaction
► Decreases student behavior problems
► Supports differentiated instruction
► Validated by scientifically based research
► 2 - 4 players