Parent/Child » Parent/Child Home Learning Kits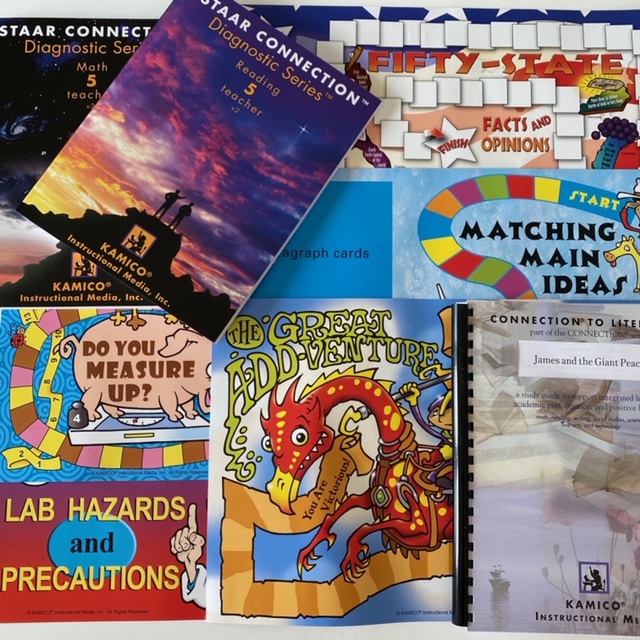 Parent/Child Home Learning Kit - Grade 5
Parents and their fifth-grade children will have a blast with the varied educational supplies included in this kit! Master the Texas state-mandated skills (TEKS) in reading, writing, math, science, and other content areas while playing games, doing activities, and having fun. Your kit will include five colorful, engaging board games for your home-schooled student to play with you or other members of the family. It will also contain our industry-leading books to keep your student on track to finish the year at or above grade level.
► Do You Measure Up? lets players practice converting measurements within the customary and metric systems. Convert dozens of measurements, like ounces to pounds, grams to kilograms, milligrams to grams, inches to feet, inches to yards, feet to yards, yards to miles, millimeters to meters, and millimeters to centimeters. As you convert your way around the game board, you have to ask yourself, "Do you measure up?"
► Master addition of whole numbers through the thousands place and decimals through the hundredths place while solving your way around The Great Add-Venture game board. The red and yellow dragon will keep you on your toes as you work through the 72 cards, adding whole numbers and decimals along the way. An included enrichment activity lets players create their own real-world addition and subtraction problems to make sure the thrilling "add-venture" goes on and on.
► Discover amazing facts about our great country while playing Fifty-State Facts and Opinions. Did you know that the lowest point in North America is in Death Valley, which is in California? Or that South Dakota is the home of Mount Rushmore? Or that Delaware was the first of the original thirteen states to ratify the Constitution? Learn these social studies facts and many more while distinguishing the facts from the opinions in this fun board game.
► Play Matching Main Ideas, and learn about orchestras, word origins, renewable energy, and sheriffs and outlaws. Separate and organize 40 main idea and supporting detail cards while moving about a colorful game board. You'll surely become an expert matchmaker by the end of this exciting game.
► Science labs are fascinating and fun, but you have to know how to stay safe! While playing Lab Hazards and Precautions, students identify hazards that can be found in science labs and precautions to take to ensure their safety. Players encounter 36 situations as they make their way around a colorful game path surrounded by lab equipment and a young scientist who believes that SCIENCE RULES!
► Read the classic chapter book James and the Giant Peach, and complete activities based on this beloved book!
► Reinforce skills through the use of our Diagnostic Series books in math and reading!
All our materials are created by highly trained curriculum experts with decades of experience in education. Our products are proven to increase student performance and have been used for years by home educators. The best part is that you receive all this for only $99. Don't waste any time. . . . Order today!
Go Back