Parent/Child » Parent/Child Home Learning Kits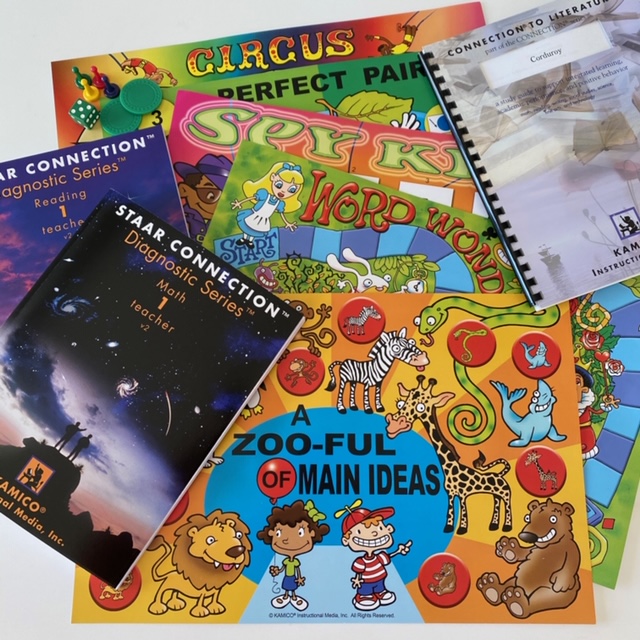 Parent/Child Home Learning Kit - Grade 1
Parents and their first-grade children will have a blast with the varied educational supplies included in this kit! Master the Texas state-mandated skills (TEKS) in reading, writing, math, science, and other content areas while playing games, doing activities, and having fun. Your kit will include five colorful, engaging board games for your home-schooled student to play with you or other members of the family. It will also contain our industry-leading books to keep your student on track to finish the year at or above grade level.
► Let's go to the circus! Solve addition and subtraction problems while playing Circus Solutions. Determine how much change there is after a ticket is purchased. Figure out how much cotton candy and peanuts cost. Decide how to find out the cost of an elephant ride, and solve many more problems based on a day at the circus!
► Play Perfect Pairs with a pair of enthusiastic pears! Identify attributes, such as interior, vertices, and edges, of shapes and solids while covering the colorful game board with chips.
► Kick into critical-thinking mode as you play Spy Kids! Become a secret agent as mathematics skills are used to reveal answers to mystery questions.
► Work on those vocabulary skills with Word Wonderland. Identify the meanings of words through context while moving through a fantasy wonderland.
► Explore the zoo while playing a Zoo-ful of Main Ideas! Learn about monkeys, penguins, bears, and other zoo animals while matching main ideas to supporting details. What a fun way to increase reading comprehension!
► Read classic early readers like Curious George and Corduroy, and complete activities based on these beloved books!
► Reinforce skills through the use of our Diagnostic Series books in math and reading!
All our materials are created by highly trained curriculum experts with decades of experience in education. Our products are proven to increase student performance and have been used for years by home educators. The best part is that you receive all this for only $99. Don't waste any time. . . . Order today!
Go Back