Parent/Child » Parent/Child Home Learning Kits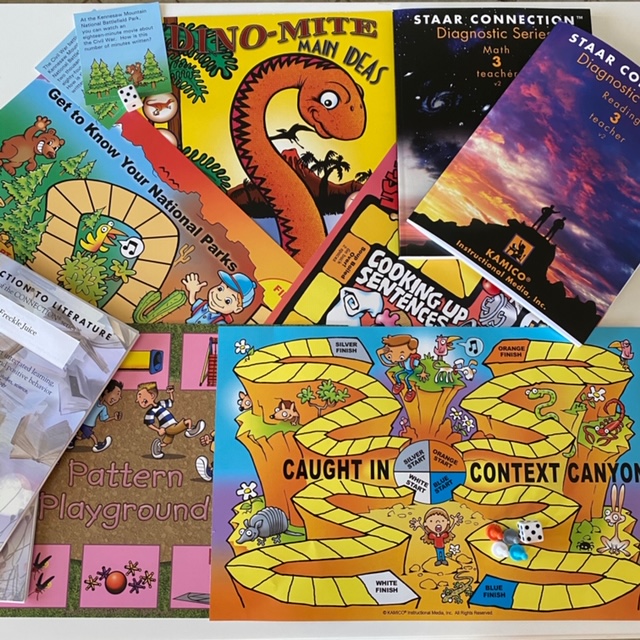 Parent/Child Home Learning Kit - Grade 3
Parents and their third-grade children will have a blast with the varied educational supplies included in this kit! Master the Texas state-mandated skills (TEKS) in reading, writing, math, science, and other content areas while playing games, doing activities, and having fun. Your kit will include five colorful, engaging board games for your home-schooled student to play with you or other members of the family. It will also contain our industry-leading books to keep your student on track to finish the year at or above grade level.
► Get to Know Your National Parks will lead you through fascinating U.S. landmarks as you learn to read and write whole numbers. Learn 40 interesting facts about important locations like the Gila Cliff Dwellings National Monument in New Mexico, the Civil War battlefield at Georgia's Kennesaw Mountain National Battlefield Park, and Denali National Park and Preserve in Alaska. Move around a colorful game board while reading and writing whole numbers through the thousands place.
► Meet at the Pattern Playground to work on problem-solving exercises. Solve problems by identifying and completing number patterns while following characters who play basketball, slide down the slide, gather bugs, sit on a bouncy seat, and participate in other playground activities. As each problem is solved, place a card on the game board until its filled with colorful playground equipment.
► Learn to use context to identify meanings of words while playing Caught in Context Canyon. Players become vocabulary adventurers as they analyze sentences to identify the meanings of 40 unfamiliar words while moving through a desert canyon filled with snakes, scorpions, and other desert animals.
► Have a roaring good time learning about dinosaurs by playing Dino-mite Main Ideas. Did you know T. rex had jaws strong enough to bite through a car roof? Or that the biggest dinosaurs weighed 100 tons and were more than 100 feet long? Separate and organize 60 main idea and supporting detail cards while placing chips on a dino-mite game board!
► Reinforce those grammar and usage skills by Cooking Up Sentences! Is it a pound of potato or a pound of potatoes? Do you read as well as Alfredo read, reads, do read, or are reading? Did Sam's mother make he, him or his favorite dinner? The game includes 42 sentence cards as well as blank cards to cook up your own sentences to test grammar and usage knowledge.
► Read classic beginning chapter books like Ramona the Pest and Freckle Juice, and complete activities based on these beloved books!
► Reinforce skills through the use of our Diagnostic Series books in math and reading!
All our materials are created by highly trained curriculum experts with decades of experience in education. Our products are proven to increase student performance and have been used for years by home educators. The best part is that you receive all this for only $99. Don't waste any time. . . . Order today!
Go Back