Parent/Child » Parent/Child Home Learning Kits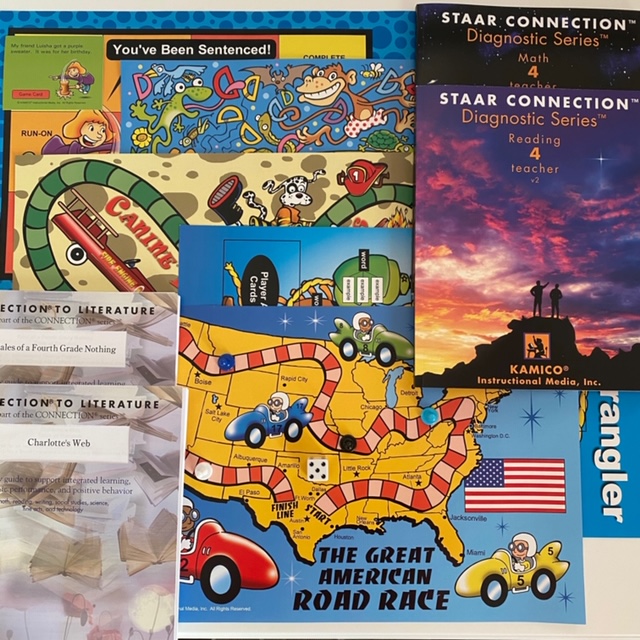 Parent/Child Home Learning Kit - Grade 4
Parents and their fourth-grade children will have a blast with the varied educational supplies included in this kit! Master the Texas state-mandated skills (TEKS) in reading, writing, math, science, and other content areas while playing games, doing activities, and having fun. Your kit will include five colorful, engaging board games for your home-schooled student to play with you or other members of the family. It will also contain our industry-leading books to keep your student on track to finish the year at or above grade level.
► Join The Great American Road Race. Start in East Texas, and motor around the country by using computational and problem-solving skills to add and subtract whole numbers. Compute the number of miles from a city in Texas to a city in California. Determine how many more miles it is from Dallas, Texas, to Washington, D.C., than from Dallas, Texas, to Jacksonville, Florida. A calculator is included to verify all answers.
► It's sheer pandemonium as monkeys dance, dogs drive cars, and other animals wildly celebrate with protractors. Play Protractor Pandemonium, and use the provided protractor to measure angles on triangles, circles, quadrilaterals, and hexagons. You will never view shapes the same way after measuring the angles on the 68 cards and moving around the game board with animals enthusiastically cheering you on!
► Learn lots of interesting canine facts while playing Canine Facts and Opinions. Did you know an adult dog has forty-two teeth? Did you know that a litter can include anywhere from just one puppy to more than twelve? Learn these facts and many more while distinguishing the facts from the opinions in this fun board game.
► Say "Howdy" to the Word Wrangler, and show him you can use context to identify meanings of words. Students rustle up vocabulary skills as they analyze sentences to identify the meanings of 50 unfamiliar words. As they play, they place cards on the friendly, colorful cowboy on the game board.
► Play You've Been Sentenced! to identify complete sentences, incomplete sentences, and run-on sentences. Over 100 cards make their way to the courtroom as the judge slams down the gavel and announces, "You've been sentenced!" Don't worry, though - you can win a free pass each time you identify two complete sentences that can be combined. Courtroom drama has never been this fun . . . or this educational!
► Read classic chapter books like Tales of a Fourth Grade Nothing and Charlotte's Web, and complete activities based on these beloved books!
► Reinforce skills through the use of our Diagnostic Series books in math and reading!
All our materials are created by highly trained curriculum experts with decades of experience in education. Our products are proven to increase student performance and have been used for years by home educators. The best part is that you receive all this for only $99. Don't waste any time. . . . Order today!
Go Back