Parent/Child » Parent/Child Home Learning Kits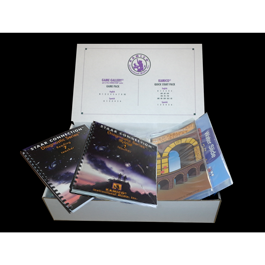 Parent/Child Home Learning Kit - Grade 7
Parents and their seventh-grade children will have a blast with the varied educational supplies included in this kit! Master the Texas state-mandated skills (TEKS) in math and reading while playing games, doing activities, and having fun. Your kit will include five colorful, engaging board games for your home-schooled student to play with you or other members of the family. It will also contain our industry-leading books to keep your student on track to finish the year at or above grade level.
► Have a blast while learning to add positive and negative whole numbers, fractions, and decimals. Players navigate through space on the AddMission game board, selecting addends on the fly! Add decimals through the thousandths place, proper and improper fractions through the twelfths, and add positive and negative compound fractions. By the end of this game, you will be an AddMission rational number specialist!
► Determine the validity of all sorts of inferences made from data sets. Will Principal Steele's survey results be biased? Will a grocery store owner get the data she needs to set employees' schedules? Evaluate these situations and more as you play Sample the Cheese, Please!
► Take a taxi or ride the subway to make your way through the bustling thoroughfares of Step City. Plot your way using coordinate grids, tables, and graphs. Identify computation errors and correctly ordered problem-solving steps. Determine the reasonableness of answers. As you explore Step City, you'll become a street-savvy problem-solving city slicker.
► Did you know that over 60 percent of all English words contain Greek or Latin roots or affixes? That number goes up to 90 percent in the vocabulary of science and technology! Don't fret, though. . . .You'll become a language master with Greco-Roman Wordplay. Figure out the meaning of words like century and centennial by learning that centi means "hundred." Learn the meaning of sol to know what solarium and parasol mean. This exciting board games uses over 40 Greek and Latin roots and affixes.
► Develop and reinforce sentence-construction skills while playing Climb the Sentence Staircase! Learn fascinating facts as you identify sentence fragments, run-on sentences, and correctly written sentences that can be combined. Did you know that bowling three strikes in a row is called a turkey? Did you know that George Washington never shook hands? Did you know that starfish are not really fish? You will learn these facts and more as you climb your way to grammar greatness!
► Reinforce skills through the use of our Diagnostic Series books in math and reading!
All our materials are created by highly trained curriculum experts with decades of experience in education. Our products are proven to increase student performance and have been used for years by home educators. The best part is that you receive all this for only $99. Don't waste any time. . . . Order today!
Go Back