Parent/Child » Parent/Child Home Learning Kits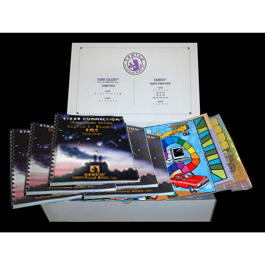 Parent/Child Home Learning Kit - High School ELA 1
Parents and their high school freshmen will have a blast with the varied educational supplies included in this kit! Master the Texas state-mandated skills (TEKS) in reading and writing while playing games, doing activities, and having fun. Your kit will include five colorful, engaging board games for your home-schooled student to play with you or other members of the family. It will also contain our industry-leading books to keep your student on track to finish the year at or above grade level.
► Connect literature to historical context by playing And the Rest Is History!
► Use context clues to learn the meaning of words with Context Commuter!
► Learn how to use analogies by playing Winner's Circle!
► Demonstrate control over grammatical elements by playing Grammar Graduation!
► Reinforce skills through the use of our Diagnostic Series books for EOC English I Reading and English I Writing!
All our materials are created by highly trained curriculum experts with decades of experience in education. Our products are proven to increase student performance and have been used for years by home educators. The best part is that you receive all this for only $99. Don't waste any time. . . . Order today!
Go Back